American Samoa is a territory trusted by the U.S. government, but not included in any U.S. state. The President of America has sovereignty over it, and its inhabitants (about 52,000 people) are considered Americans by nationality, but are not citizens. The area of the territory is almost 200 km2.
This is what the modern flag of American Samoa looks like: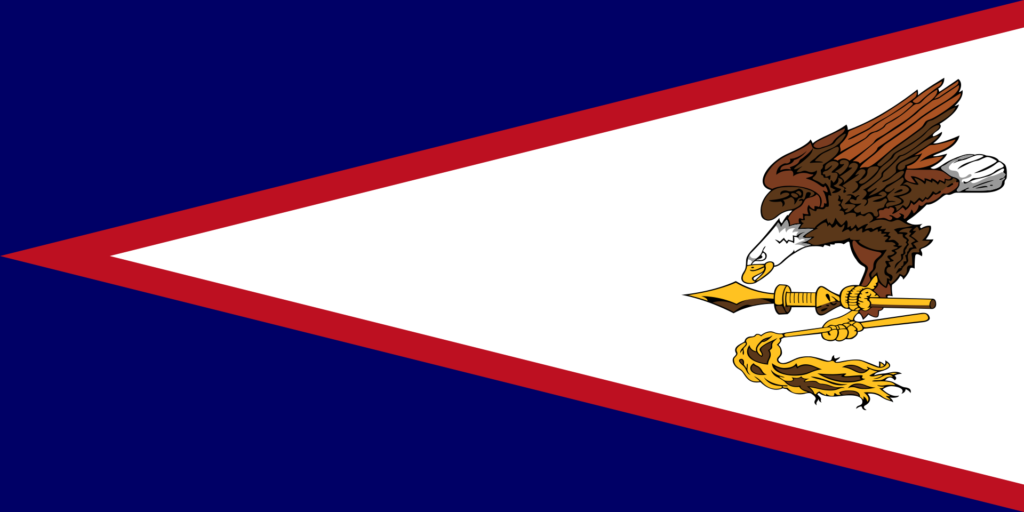 History of the flag
American Samoa did not have any state symbols before the first Europeans came to the islands (18th century). There is no documented evidence of a flag, although some sources suggest that some images were used as symbols.
After 1899 Samoa was divided between Britain, Germany, and the United States, with each country having its own interests. In April 1990, the U.S. symbol was approved as the official symbol in American Samoa.
In April 1960, the current version of the flag was adopted as the national flag.
American Samoa has no other flag options other than the main flag.
Description of the flag of American Samoa
The official flag of American Samoa became the national flag in April 1960, the day the first constitution came into force. The cloth has proportions of 1 to 2.
It depicts three triangles:
An isosceles triangle with its base coinciding with the width of the right side of the banner, and its equal sides pointing toward the middle of the left side of the banner (the general background is white);
Two rectangular triangles of blue color opposite each other, the long sides of which are equal to the length of the banner, and the short sides equal to half the width of the banner.
The white triangle is separated from the blue by a red stripe.
On the white triangle, a white-headed eagle is drawn, soaring to the side, attached at the stem of the banner.
In its talons it holds the Samoan symbols of power: the broom (fue), and the cudgel (uatogi).
Flag colors
The banner of American Samoa has three primary colors: blue, red, and white. These colors are also traditional for the American symbol. The colors used on the banner are still brownish, for the image of the eagle, and yellow for the used symbols of Samoan chiefs.
Meaning of colors and flag symbol
The broom (flyswatter) in the eagle's talons symbolizes the wisdom of Samoan chiefs, and the military cudgel symbolizes the power of the state. Together they signify peace and order under U.S. control.
The image of the eagle symbolizes the national relations with the United States, for which this bird is also considered a symbol. The white-headed eagle is represented on the Great Seal of America.
General information about American Samoa
| | |
| --- | --- |
| Official language | Samoan, English |
| Capital | Pago Pago |
| Territory | 199 km2 |
| Population | 51,504 people |
| Currency | U.S. dollar (USD, code 840) |
| Phone Code | +1 684 |
Map of American Samoa