New Caledonia is a territory consisting of dozens of islands in the South Pacific. Their total area is 19,000 square kilometers, and their population is 275,400 people.
This is what the modern flag of New Caledonia looks like: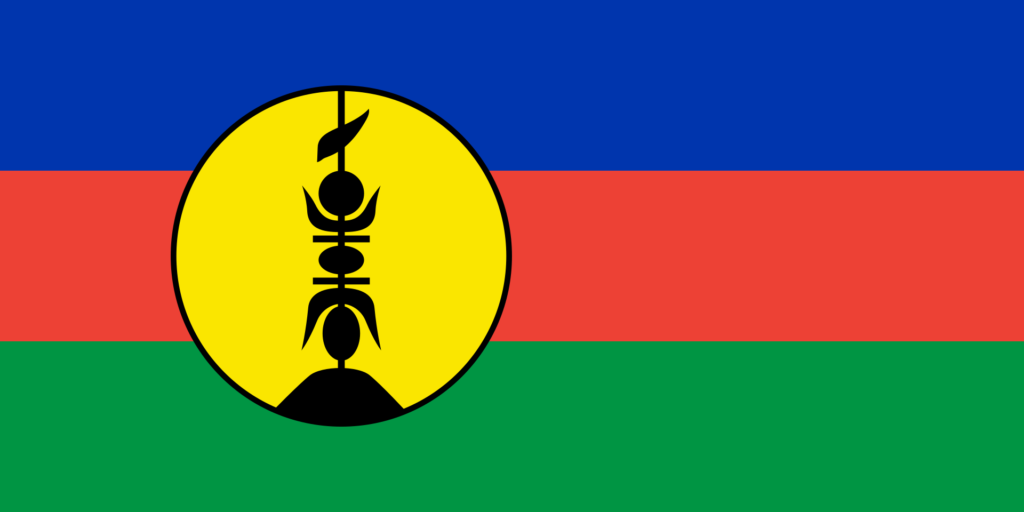 History of the flag
The active development of the islands of New Caledonia began in the mid-19th century by English and French missionaries. Since 1953, France declared these territories its possession, and the French tricolor was used as a symbol.
By the end of the 20th century, unrest and unrest began to occur among the indigenous population (Melanesians), with the main goal of gaining independence. At that time, the Kanak Socialist National Liberation Front (KSNLF) was established.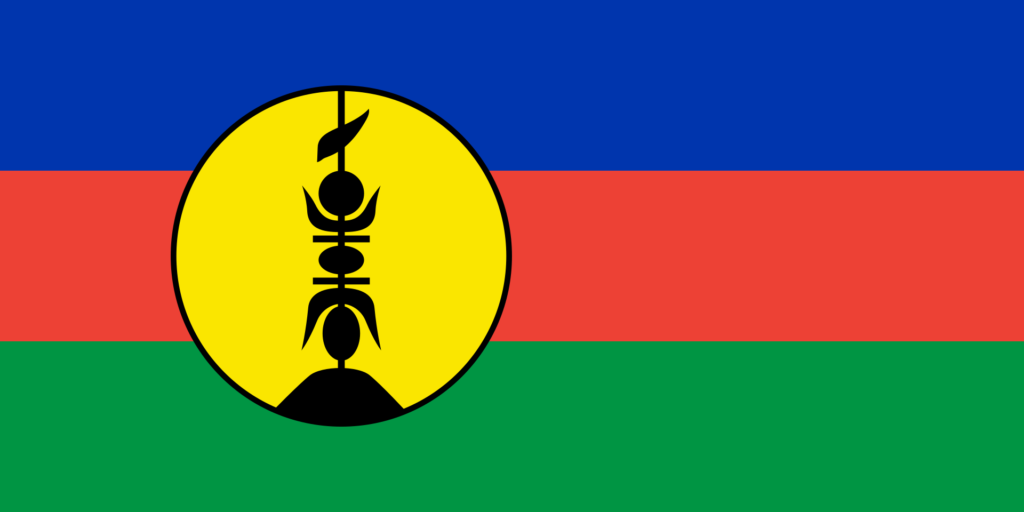 Its symbol was adopted as the regional flag of the territories advocating independence from France. Until 2010, this symbol was unofficial, but since July 2010 it has been used as an official flag.
New Caledonia is one of the dependent territories that have two official flags.
In New Caledonia, the French tricolor is hoisted on every occasion.
Description
The national regional flag of New Caledonia consists of three horizontal stripes: blue, red, and green. On the left side of the cloth (closer to the staff) there is a yellow colored oval with a black line around its outline. Inside it shows the emblem of the spire, again in black.
The proportions of the sides relate to each other as 1 to 2.
The colors of the New Caledonia flag
Five colors are used on the flag of New Caledonia: blue, red, green, yellow, and black.
Meaning of colors and flag symbol
The colors used on the flag of New Caledonia denote:
Blue symbolizes the sky and the ocean, whose waters wash over the country;
Red – the blood spilled and the sacrifices made by the inhabitants for freedom;
Green – natural treasures;
Yellow oval – the sun;
The emblem in the circle is the kind of spire that adorns Kanak homes.
The interpretation of the colors of the flag of New Caledonia has other meanings that are related to the organization of the FLNKS. In particular, the color blue still means independence, green, in addition to the above, also represents the country and its ancestors, and red also means harmony and blood kinship of all races of humanity.
Other Flags
New Caledonia territorially consists of several provinces that include groups of islands. Each of the provinces has its own symbol:
South;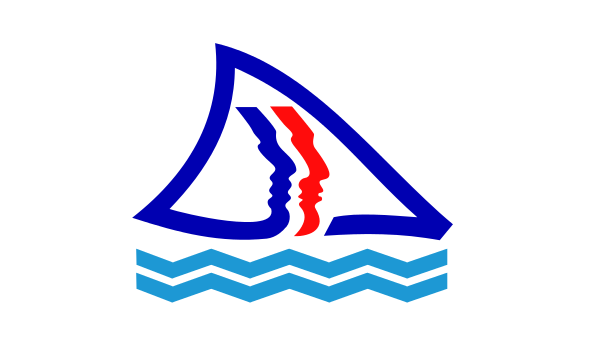 North;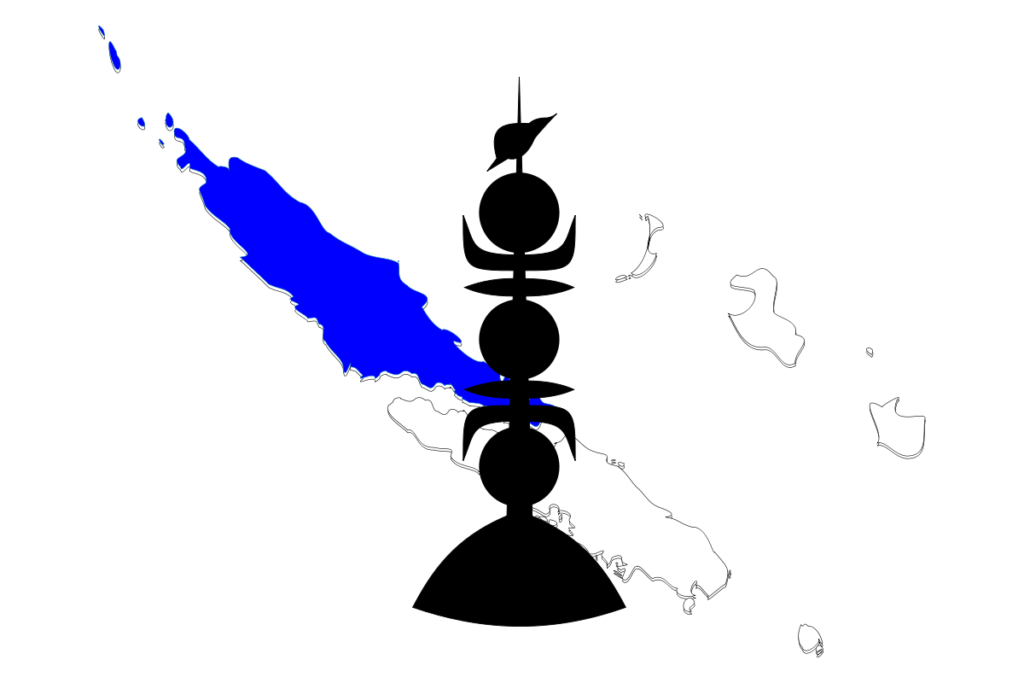 Loyalty Island;
The idea of independence continues to be raised from time to time in the country. In the last twenty years there have been two referendums on the issue, and both times the result was negative. Parallel to this are the ideas of replacing the national symbol. Different kinds have been proposed as an option: 1, 2.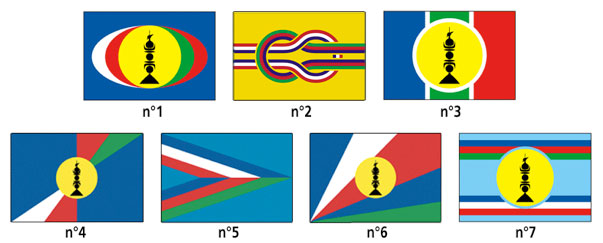 Other variations are used as sports symbols by New Caledonia. For example, the South Pacific Games used symbols.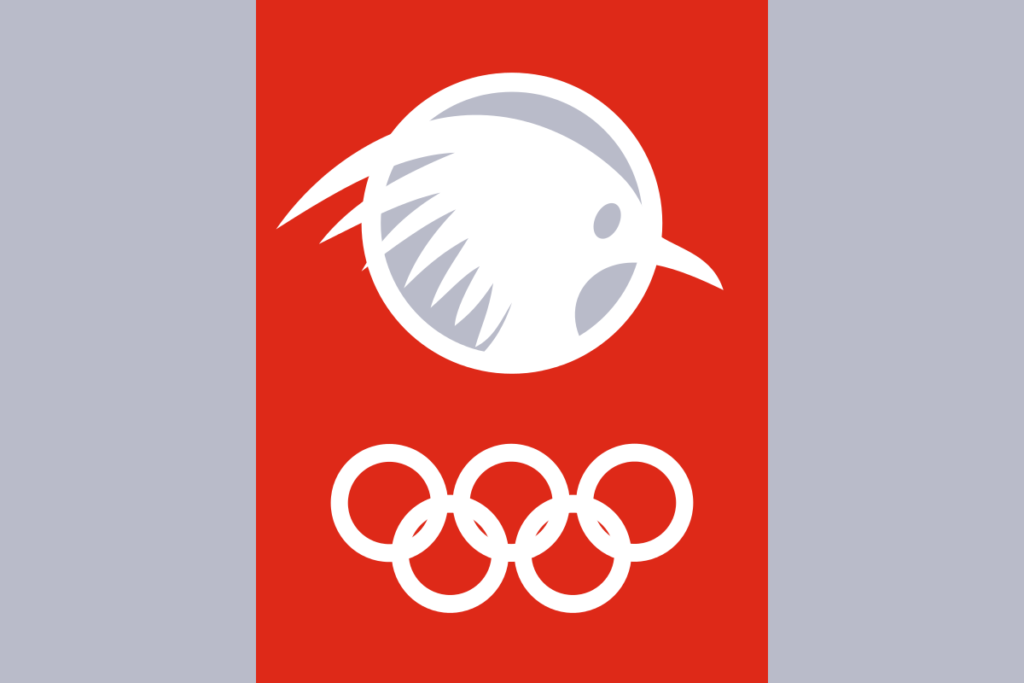 A fused version with the French tricolor is used for submission to FIFA.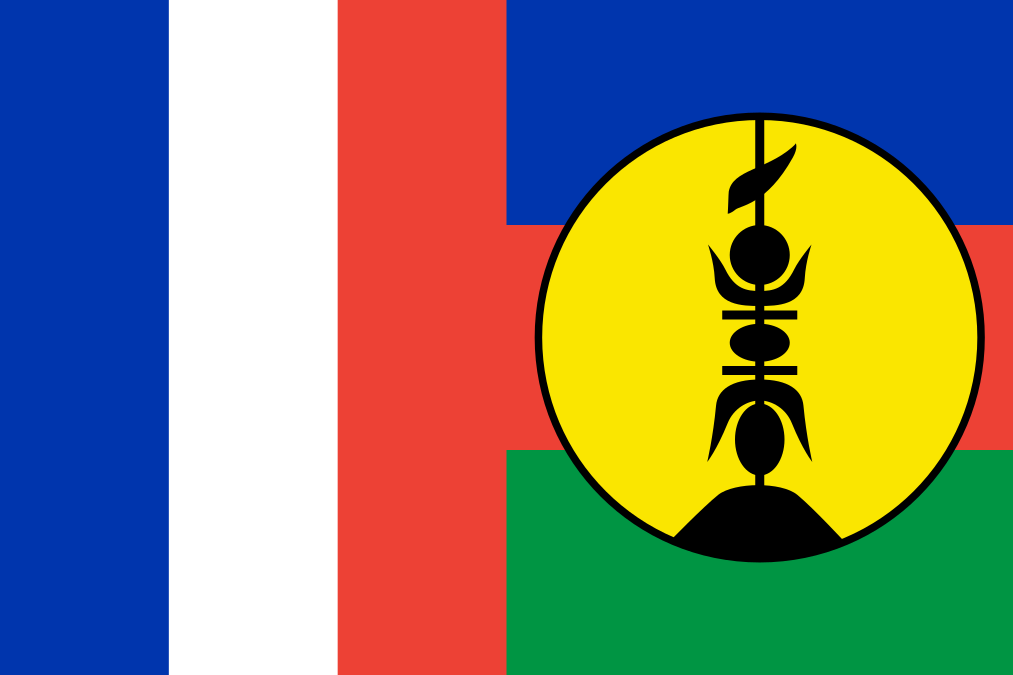 General information about New Caledonia
| | |
| --- | --- |
| Official language | French |
| Capital | Noumea |
| Territory | 19 060 km² |
| Population | 275 355 people |
| Currency | French Pacific Franc (XPF) |
| Phone Code | +687 |
Map of New Caledonia